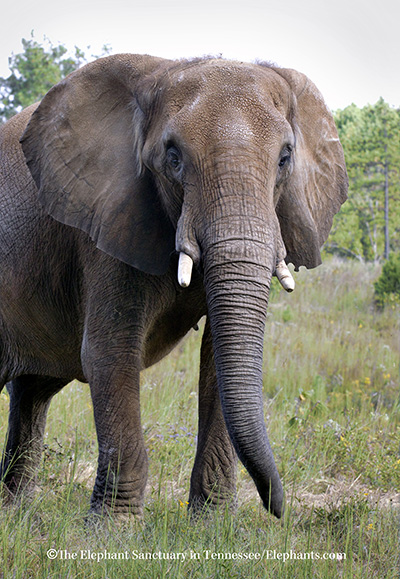 The Elephant Sanctuary in Hohenwald, Tennessee, is the nation's largest natural-habitat refuge developed specifically to meet the needs of endangered elephants. It is a non-profit organization, licensed by the U.S. Department of Agriculture and the Tennessee Wildlife Resources Agency, and accredited by the Association of Sanctuaries, designed specifically for old, sick or needy elephants who have been retired from zoos and circuses. Utilizing more than 2700 acres, it provides three separate and protected, natural-habitat environments for Asian and African elephants. Our residents are not required to perform or entertain for the public; instead, they are encouraged to live like elephants.
As an accredited sanctuary, the habitat where the elephants live is not open to the public. Elephants in captivity have lived their entire lives on exhibit. The Sanctuary works to provide an environment for captive elephants to live a more natural life.
The Elephant Sanctuary does provide the public with ways to observe, learn and support the elephants without impacting their day–to-day lives.
The Elephant Discovery Center located in downtown Hohenwald welcomes visitors year round. It is located at 27 East Main Street, Hohenwald TN 38462. It is currently open every Thursday and Friday from 11 am till 4 pm, select Saturdays for special elephant focused programs or events, and other times by appointment. Please visit the Discovery Center page to view the calendar of events.


The public is invited to access EleCams online for views of elephants living in Sanctuary. Fourteen solar powered cameras stationed throughout the habitats provide a non-invasive, respectful way to view the elephants. The EleCams are available online seven days a week to give the public the opportunity to watch as the elephants go about their daily activities—grazing, foraging, swimming and even napping.


Ele-Notes provide information about each elephant with updates on life in Sanctuary.
The Sanctuary schedules Volunteer Days one Saturday each month throughout Spring, Summer and Fall months. The VIP Program includes a behind the scenes tour of facilities to help donors better understand the work of Sanctuary and commitment to care.